Custom Acrylic (Shatterproof) School Ornaments
Custom acrylic (shatterproof) ornaments have long been a popular choice for schools & universities looking for fundraising ideas. Acrylic is our most affordable option, and the shatterproof quality eases the stress of handling them. We have many different imprint options available, so we can provide you with multiple mockups to fit your vision & your budget. Go ahead and fill out our Mockup Request Form so we can get started on your Free Mockup today!
We have extensive experience working with schools, universities, and fundraising groups in designing the ideal ornament for their event. Send us any artwork you have, and we can work with it in designing your digital mockup.
Frequently Asked Questions.
What is the minimum quantity that can be ordered?
Our minimum is 50 ornaments.
What is the minimum quantity that can be ordered?
Our minimum is 50 ornaments.
How does one go about ordering?
The process starts with the mockup, which we supply at no cost. If you have artwork, a photo, or just a design idea, please fill out our form here:
Acrylic Mockup Request Form
. We'll do our best to get you a mockup within a few days of your submission.
How quickly can I receive my ornaments?
Once you've approved our layout we need 1 week for production, and 2-5 days for delivery (FedEx Ground).
How are the ornaments packaged?
Each ornament is individually boxed in your choice of plain white, or "Happy Holidays".
Can you ship to Canada?
Yes, but shipping will cost more, and the exact cost varies depending on what part of Canada you are in.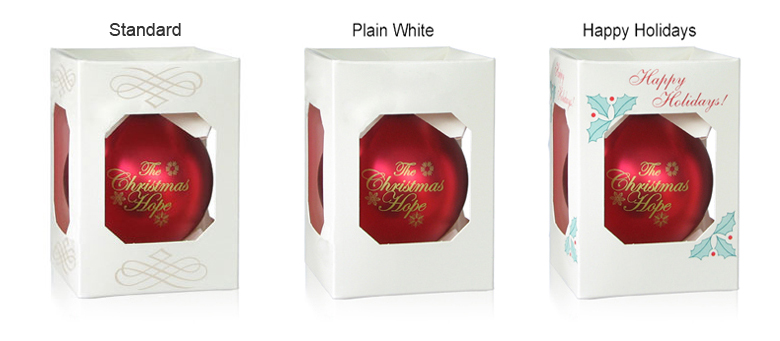 What colors are available?
Acrylic (shatterproof) ornament are available in the colors seen below.

Below are the standard available imprint colors.

Pantone® Color matching is available for $40 per color.
Ornament stand
A brass ornament stand is available for $1.75 each.
The plastic desk stand is $0.75 each.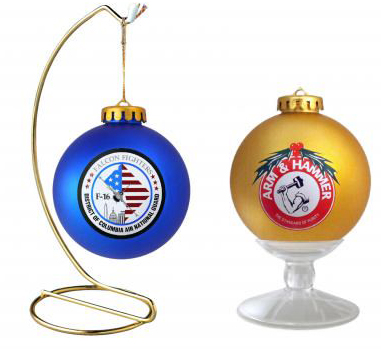 Imprint Area
Our shatterproof ornaments are 3-1/4″ diameter with a 2-inch imprint area.
Where are your ornaments made?
Our acrylic shatterproof ornaments are printed in the United States. The blank ornaments are manufactured in China.